February weather in Colorado can be very unpredictable.  In the past few years we have seen everything from mild 55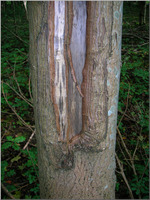 degree days to freezing temperatures below zero for multiple day stretches.  These conditions place significant stress on our trees.  Mild temperatures can promote an early break from dormancy, which often leads to freeze damaged leaf and bud tissue.  Massive temperature swings may damage vascular tissue inside the tree when moisture in the cells expands due to freezing.  Injury from cold temps and large temperature swings can persist long into the growing season, and it may impact processes such as flowering and fruit production.  Damage can also extend into significant trunk injury known as "sun scald" or "frost cracks".  Heavy snows can destroy branches and impact tree structure for years to come.
Mitigating the impact from Mother Nature's heavy hand can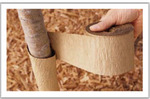 be difficult.  Trunk wrapping with a layer of insulated paper can offer a measure of protection from the intense sun exposure.  Supplemental watering can protect sensitive root tissue during mild temps and drought periods.  Protecting roots in the winter will help to prevent lags in growth when spring arrives.  It is also very important to plan ahead when it comes to pruning your trees.  The time and attention you spend on corrective pruning will pay big dividends when it comes to preventing storm damage in the canopy of trees.
Our Arborists are always available to meet with you to discuss the potential problems that your landscape may encounter, as well as helping you to develop a plan to protect your property.