Spring is Here!




Lawn fertilizations and tree applications have started full swing and our irrigation department is starting to book up quickly. If you have not returned your annual property care proposal, now is the time to get it taken care of. We want to make sure that you get the best possible care that we can give. Our goal this season is to meet or exceed your expectations! If you do not have a lawn program with us, please give us a call and we can get it set up for you.
Ralph Bronk, owner
MHT Team

---
TREES - Soil Quality

Isn't Mother Nature magnificent! Our landscapes are coming back to life every day! It is crucial for you to take advantage of this springtime to ensure the best results for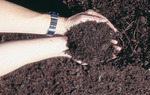 your yard's health all summer long. Promoting soil quality should be part of your landscape care program. The benefits of improving soil quality include, but are not limited to, increased root density, improved drought resistance, vigorous growth, increased leaf density, flower retention, increased fruit production, and vibrant fall color.

In Colorado, our plants have to deal with extreme weather conditions, so it's important to implement a program to improve the soil that supports our plants every day. Soil improvement programs should be tailored to each specific site. For example, a program for heavy clay soil with high salt levels should include amendments that focus on restructuring the soil and leaching salt. Some of the most common soil improvement products include epsom salt, gypsum, sulfur, chelated iron, blood meal, diatomaceous earth, compost tea, Revive products, humic acid, fulvic acid, Superthrive, compost, and mycorrhizae fungi.

For more information on soil sampling, click here.
---
LAWN


Lee Kral, our Lawn Department manager, has been out setting bait stations for voles and is troubled over the trend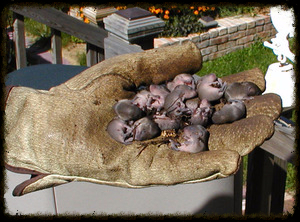 that he is seeing. Voles are at an all time high
already
this year, with spring being one of the peak breeding times.
The breeding season for voles encompasses most of the year, with peaks occurring in the spring and fall. Most voles have multiple families per year. Some voles have been shown to produce upwards of 10 litters of two to five young in one year. The normal is three to five litters a year.
For further information on voles, click here.
---
LANDSCAPE
Water conservation may not be one of the hottest topics, especially when we have a winter where the mountains are well above average for snow pack or we have an exceptionally wet spring, but it should be. We live in a high alpine desert where water is certainly our most precious resource and conserving that resource is not all that difficult when it comes to your sprinkler system. There are some very simple things that you can do yourself to minimize the potential waste a sprinkler system may generate.

One of the easiest things to add to a sprinkler system is a rain/freeze sensor. This wireless device will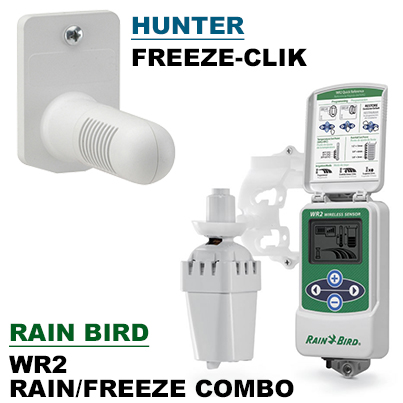 interrupt or delay a sprinkler program if enough natural precipitation is registered or if the weather turns and gets too cold to water. Another very simple thing you can do is monitor your lawn throughout the season and adjust the run times of each of your turf zones as the year progresses. Periodically checking the system for breaks, misadjusted heads or leaking valves will also make a significant difference in the amount of water wasted.
Click here to read about the biggest impact you can make towards conserving water.
April 2015
MHT ~ SEASONAL TOPICS
from Craig Little
Be sure to watch the weather forecast for freezing overnight temperatures that can damage your irrigation system. Covering your vacuum breakers and other above ground components can help to reduce the likelihood of damage and costly repairs.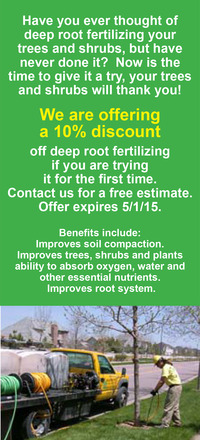 Some of our recent reviews:

Great Crew, Great Job - would definitely recommend them.
Anne ~ Brighton
Responsive, educated me on the best way to handle voles and fair on pricing. Would very likely recommend Patti ~ Greenwood Village

Tree removal tech guys were skilled at their job, they were awesome.
Jim ~ Denver

Services are always thorough and timely. They do exactly what they say they are going to do. They have a great office staff. A company that fulfills and exceeds expectations. Can't say enough good about
Mountain High.
Leslie ~ Denver

Crew is very neat and cleaned up very well.
Charles ~ Denver

Meet our Plant Health Care and Lawn Crews - They are the best!
Back row left to right: Loftin Davis, John Martinez, Mike Severin, Matt Grabiananski, Nate Switt,
Jason Byerly and Mike Huerena

Front row left to right: Lee Kral, Zach Brooks, Vince Manus, Alex Karker, Jerry Reynolds, Brad Harrison,
Craig Little and Wes Klunk. There are a few guys missing, we'll catch them next month!