Happy 4th of July weekend!

This is the best holiday to enjoy time in your yard with family and friends. Heat up the grill, play catch with the kids, sit back, relax and breathe in the smells of your blooming flowers and freshly cut lawn. How peaceful!

With that being said, do you currently have your own outdoor space that fits your lifestyle? Our Design/Build team would appreciate the chance to help you with any projects that you are thinking about. We have time available this month to meet with you and help lay out your ideal space. See some of our recently completed projects: click here. Give our office a call and we will take care of the rest.
From our family to yours, have a safe and happy 4th of July!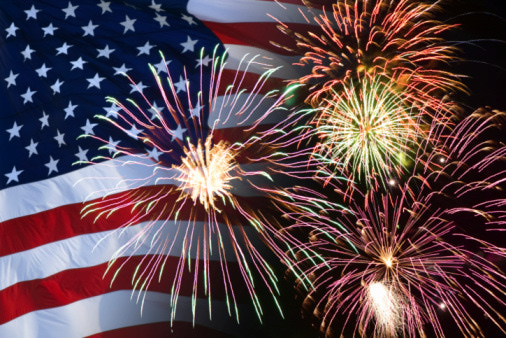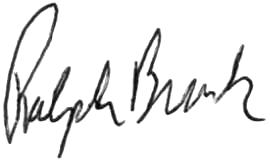 Ralph Bronk, owner
& the MHT Team
---
Trees
This spring and summer has been even more unpredictable than usual. February was both the warmest and snowiest February in the past 50 years. May only offered us five days without rain. June's humidity has been more reminiscent of Georgia than Colorado. We even had the misfortune of a heavy Mother's Day snow storm that damaged trees and shrubs all over the Denver Metro Area.

So what does this mean for our landscapes?...

First, our trees and shrubs enjoyed the extra moisture. This was a welcome situation because of the amount of plant material that came out of the winter with severe stress. The excess moisture has allowed many plants to replace leaf tissue damaged by the Mother's Day temperatures.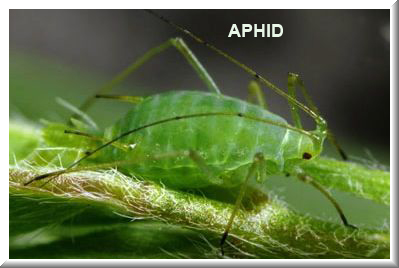 Second, the abundance of new leaf material has encouraged a higher than normal population of several chronic pests such as aphids and mites.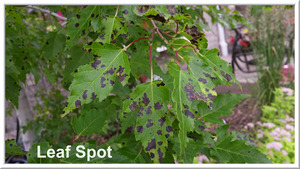 Third, and most recently, we are beginning to see the occurrence of foliar diseases such as leaf spot, rust, and scab. These diseases will affect a wide variety of trees and shrubs and cause a loss of leaf color, reduced photosynthetic potential, and early leaf drop later in the summer.
Our erratic weather conditions are often difficult for people to deal with, but it is important to understand that it can be even more difficult for our landscapes to thrive under the extreme conditions. It is crucial to always pay attention to the weather as it changes so we may adjust how we care for our landscapes.
---
Lawns

Lawn Care When the Temperatures Go Up
After the spring growing season, summer brings quite a bit of stress to lawns. Lawns that were lush and green in the spring now have to deal with less water, longer days, and more heat. While we all would love to keep the lushness of spring, lawns now require more care to stay healthy and green.

Most of the lawns in the Denver Metro Area are cool season grasses: bluegrass, ryegrass, and fescues. These grasses grow best when the temperatures are in the sixties to low seventies. While our evenings get down in those ranges, the intense heat and high altitude causes stress which needs to be countered by good maintenance practices.

Once temperatures get into the 80's and above, lawns begin to struggle, with cool season grasses having the hardest time. Growth will slow, color may fade, and lawns will show signs of wear and tear as they find it harder to recover from stress and traffic. It is not uncommon for improperly cared for cool season lawns to go dormant during the heat of the summer. When this happens they turn brown and stop growing.

If for some reason you are unable to water regularly, allow your lawn to go dormant. Do not water enough to green it up only to let it fade again. This does considerably more harm than simply letting it go (and stay) dormant. A dormant lawn will normally recover once cooler temperatures come back in the fall. The biggest concern for a dormant lawn is insects. A dormant lawn needs to be checked regularly for insect activity and damage since the damage is harder to spot than it is on a green lawn.
---
Landscape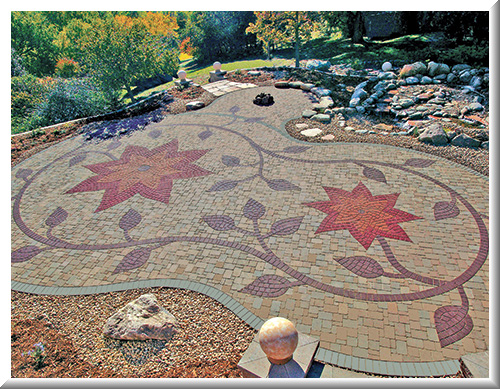 Nearly every hardware or garden store seems to have an abundance of options when it comes to paver selection. Between the styles, sizes, shapes and colors you can create nearly any look you can possibly dream up. As you go out and tackle a paver project on your own or have a contractor put one in for you there are a few things that you should be aware of.

Simply picking out a paver that looks good is not the last step to building a quality walk, patio or drive. Before you choose the perfect paver because it looks good you must also keep in mind: how the paver was constructed and the application you are using it for. Different manufacturers can vary not only the ingredients but the process by which the paver is made. In an effort to keep costs down a manufacturer may minimize the amount of Portland cement and aggregate. They can also modify the way a paver is cured, creating a paver that may have a slightly higher moisture content, making it a less durable product.
JULY 2015
MHT ~ SEASONAL TOPICS
from Craig Little
It is important to run your irrigation system just prior to dawn (or at least during morning hours). Irrigation systems that run at night keep vegetation wet and promote fungal and bacteria diseases.
Doris in Arvada ~ Each time we hear of a new threat to trees, I feel confident that Mtn. High is "on it!" I think we've been steady customers in almost all of your 40 years.

Irma in Golden ~ I am completely satisfied with your entire staff, you do a great job. Great people to deal with. Thank you!
Elizabeth in Wheat Ridge ~ The courtesy and the workmanship is great, we totally trust that the job is well done.

Thomas in Denver ~ Our technician even emptied the birdbath to protect the birds!

Amy in Centennial ~ Friendly irrigation receptionist and Shane Ronan is great and knowledgeable as well.
---
Mountain High Tree,
Lawn & Landscape
303.232.0666
Lakewood, CO, 80214



Mountain High Tree
Care & Consulting
719.444.8800
Colorado Springs, CO 80910
Douglas-Fir Tussock Moth
(Orgyia pseudotsugata) and Spruce Budworm (Choristoneura hebenstreitella)
Populations of these two defoliating caterpillars continue to expand this year in the Colorado Springs area. Blue Spruce, Douglas Fir and White Fir are hosts to these insects. Larvae were observed hatching in early June and evidence of feeding on new growth is just starting to show up.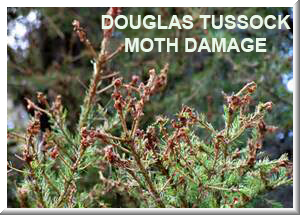 The caterpillars of both moths feed on the new needles, eventually moving on to older needles and stripping the branches. After the initial season of feeding, a tree can usually put out new growth the following year, but with repeated defoliation a tree will die or become prone to bark beetles. It is important to spray for these insects. Chemical controls should be applied shortly after egg hatch in May or early June but can be applied into July if the caterpillar is still on the tree. A biological option, Bacillus thuringiensis, is also available and effective for early instar stages of the caterpillar. It is a bacterium that feeds on caterpillars. Timing is critical and it is not as effective as other control options.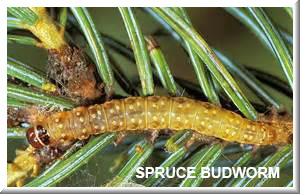 Douglas-Fir tussock moth has been most prevalent in our landscape trees but is also in forested areas on Cheyenne Mountain and on Rampart Range Road. Spruce budworm has surged in forested areas such as Cheyenne Cañon, Cheyenne Mountain and along Rampart Range Road. It can also move into our landscape Spruce and Fir trees.
If you would like your trees checked, please call the Colorado Springs Office at 719-444-8800.