ARE
YOU
READY?
It might not look like it right now, but the spring season is just around the corner. We are looking forward to the warmer weather and longer days!
By now you should have received your 2015 annual plant health care proposal. P
lease take a moment to:

1. Read through your personalized plan for the
upcoming season.
2. Check off the services you would like, and then:
3. Sign and return your proposal or call our office to
authorize your services.
(Lawn services will start around Mid-March)
If you have any questions, please call our office, our staff would be happy to help.
Ralph Bronk, owner
MHT Team
---
Trees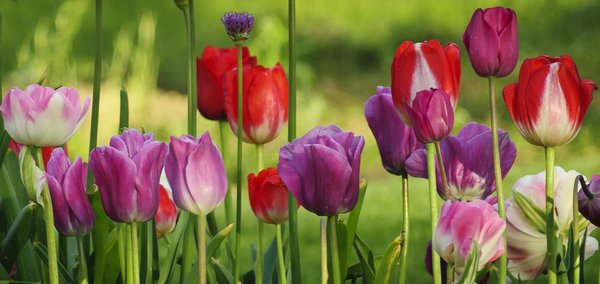 It's Time to Get Ready for Spring:
The weather in March can be unpredictable. In the past few years we have seen everything from deep snow to daffodils. It's important to prepare your landscape for the end of winter and the beginning of spring. There are all kinds of chores to do in order to get your landscape started out on the right foot for spring. Many of these are essential to help plants produce large and abundant flowers, as well as reduce the likelihood of disease activity.

Here is a short checklist to help you achieve the best results for your landscape this spring:
Clean your flower and shrub beds of any leaf litter. Dead leaves can foster fungal or bacterial spores that may infect new leaf tissue as it emerges in spring.

​Cut back flowering perennials like roses and butterfly bushes. If you cut these back too early in the winter the remaining tissue can dry out and delay spring flowering.

Inspect your irrigation system so that you can supply the needed moisture to plants as they become active. This includes inspecting drip lines to ensure they are unclogged and positioned correctly.
​
Let us know if you need help preparing your landscape for spring. Our Arborists are available to walk through your property to help spot issues and develop a plan to resolve problems.
Click here for more tips:
---
LAWN

Early Spring Lawn Care
If we are taking care of your trees, let us help with your lawn as well; we are a click or phone call away!
Take care of the soil so it can help take care of your lawn!
Spring aerating is very important to overall lawn health in the Front Range. Our poor soil conditions make it hard for lawns trying to pull out of winter dormancy. The holes created by the aerator allow air and water to reach roots and for fertilizers to settle in. Products such as Revive, can also help with moisture penetration and water uptake in our dry climate.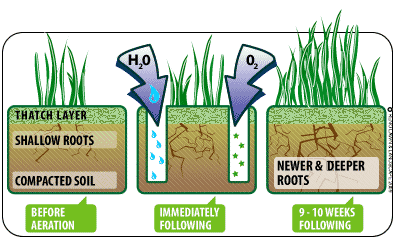 Early spring fertilization:
Early fertilization of lawns helps to build a dense turf which will crowd out most weeds. Thin grass and bare spots provide an open invitation for weed seeds. Weaker areas of turf also allow for crabgrass to easily sprout and take hold. Proper fertilizing will provide root growth to help fight off both weeds and pests. Finally, proper fertilization should be done when the lawn is actively growing. This is not only the best practice for lawns but also the environment.
Another thing to keep in mind is that spring is a time of rapid growth for our cool-season grasses, including Ryegrass, fine Fescue, tall Fescue, and Kentucky Bluegrass. These grass types prefer cool weather and will grow robustly until hot weather slows them down. Then they will resume good growth in fall as temperatures cool. Fertilization of these cool-season grasses in spring is a large key to helping them build strength to fight off the heat of the summer.

Watering Lawns:
When it comes to watering there is a fine line between watering too little and watering too much. Turf grasses need adequate water to develop strong and healthy roots. On the other hand, too much water can lead to disease and make grass more susceptible to drought.
For more information on watering, weed control and mowing tips, please click here
:
MHT ~ SEASONAL TOPICS
from Craig Little
Many Apples, Crabapples, Pears, and Hawthorns were infected with the bacterial disease called fire blight last summer.

March may be the last chance to prune these trees while the bacteria are dormant. Be sure to make proper pruning cuts below any signs of the infection.
Some of our recent reviews:

Everyone has been very helpful explaining the fireblight in our
Apple tree - we really
appreciate the expertise.
William & Vicki from Denver
A company that Fulfills and exceeds expectations. Can't say enough
good about Mountain High.
Leslie from Denver

The technicians were wonderful! They worked hard and cleaned up very well! I would highly recommend.
Louise from Denver

I like you and have used you
for over 40 years!
Gertrude from Lakewood

Consistently good service!
Mark from Lakewood

They really care about their job
and do it the right way.
William from Denver

Met my expectations,
staff is very professional.
Robert & Esther from Denver
Great job
LANDSCAPE
XERISCAPES
When xeriscape is mentioned, most people immediately think of plants that need only water provided by nature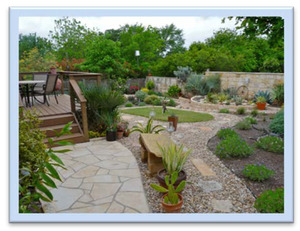 to survive and nothing else. This is not what xeriscape actually stands for. Xeriscaping is a term that has been used for more than three decades to describe a landscape that is suitable for an arid climate needing little water and maintenance. When you decide to go xeric that does not mean you have to only plant Cacti, Russian Sage, Yarrow or Sedum. Your local nursery will have a large pallet of plant material that can be used in a xeric landscape. The key to ensuring the survival of your plant material and turf (yes you can have grass in a xeric landscape) is to plan ahead and make sure that you do not just put some plant material in the ground and hope that it thrives year after year.

There are some steps that need to be adhered to in order to ensure that your landscape will be a happy and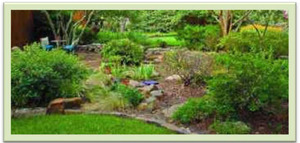 healthy xeric environment. First thing is to come up with a plan. Make sure you are aware of what plants are existing and if they fit the xeric environment that you are creating. Make sure that you research the plant material you plan on installing and ensure that they will thrive in a low water environment. You will want to look at the drainage on the property, what type of soil you have and what type of exposure the yard has. Next, work on improving the soil characteristics. This will allow the soil capacity for water and oxygen to increase, and will also improve the drainage. This could include tilling in amendments and possibly adding small amounts of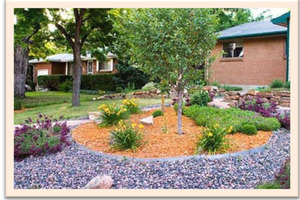 aggregate (small stones - <3/8") that will help with creating air space and can improve the drainage.

When planting your areas, create like-minded watering areas. This means group plants according to their watering requirements so that you ca
n better distribute the appropriate amount of water for that zone. Once the plants have been appropriately grouped, you will have to modify your existing or install new irrigation for the area. This is as important as creating a healthy soil environment and should be specific and flexible. You should be installing drip irrigation to the plant material with specific amounts of water to specific
plants. In other words, you need to size the drip emitters properly. The irrigation controller is the flexible part of the equation. You should have the ability to set different schedules and durations for each of your xeric areas. Less frequent watering for longer duration will help create a root system that is deeper in the soil than more frequent short watering.