November - A Time to be Thankful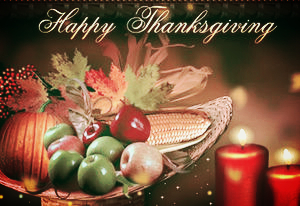 November is always a great time of year. We have seen the leaves turn glorious colors and the Broncos are off to a great start; what could be better? Maybe if a leaf fairy would come in and rake up all those leaves it would be a good start. Since that probably won't happen, I would urge you to get those leaves raked up so that there won't be any problems in the spring. As a reminder, we have had such beautiful weather this fall; it would be easy to forget getting your sprinkler system winterized. Please put that on your "to do" list if you haven't already. Winter watering is going to become important as well if the conditions stay as dry as they are. We would be happy to help out with that; just give us a call.

Don't forget Holiday Lights, we can help with that too.

From our family to yours, have a safe and happy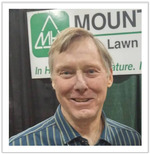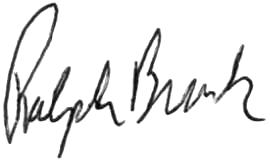 Ralph Bronk, owner
& the MHT Team
---
Trees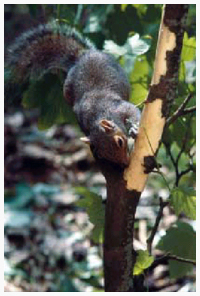 This past Mother's Day snow storm damaged many of our trees. Unfortunately, the damage from that weekend continues to accumulate. The cold from Mother's Day killed many flowers on Apples, Crabapples, Peaches, Plums, and Pears. Without flowers, most of our fruiting trees did not produce fruit. The lack of available fruit has forced squirrel populations to expanding their foraging, and this has resulted in an explosion of trunk and bark damage to a vast number of our shade trees. Locust and Elm trees are often damaged by squirrels, but this season we have found extensive bark damage to Hackberries, Maples, Oaks, Elms, Locusts, and just about every species of tree along the Front Range. There is very little that can be done to prevent squirrel damage. The damage is often seen in small tip branch dieback scattered throughout the tree's canopy. As this damage accumulates it can significantly impact the growth and appearance of the tree. In some instances this season we have even seen total tree death as a result of extensive squirrel damage.
Click here for more on our Tree Top Times Blo
g
---
Lee' Lawn Tips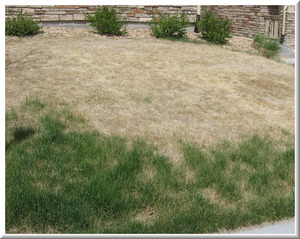 Winter mites are starting to appear as sprinkler systems are turned off and lawns dry out:

The warm days and cold nights this October have caused mites to come out early. Lawn mite populations are already high, so damage is already starting in dry and sunny areas of lawns.

As soon as the sprinkler systems get turned off for the season, mite activity starts. Now is the time to start taking action to cut back on winter mite activity. The best way to prevent costly and time consuming lawn repairs in the spring is to combat mite activity during the winter.

During the winter, mites often do a great deal of damage to areas of a lawn while snow covers other areas. Because of this, Mountain High charges only for only the areas sprayed.

A combination of winter watering and mite sprays can keep a yard happy and healthy throughout the dormant season.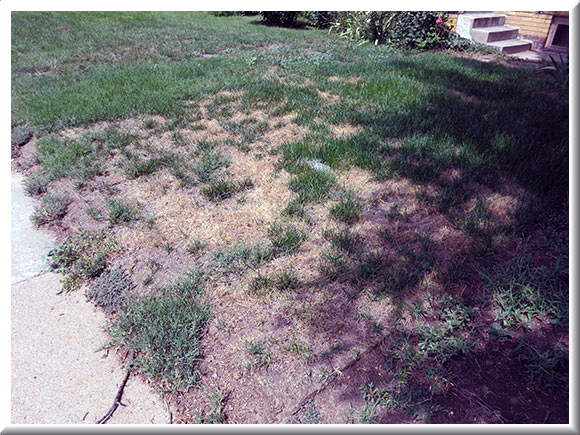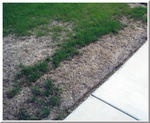 Areas of west and south facing turf are particularly susceptible to lawn mite damage. As the winter sun beats down on these areas it provides extra heat for the mites to actively feed. At the same time the heat is drying out the ground, so there is no moisture to replenish what the mites are taking from the grass. Other areas hard hit by mites are areas where the sun reflects down from windows, off of light colored fences, rock walls and under evergreens.

Remember:
Winter watering is often not enough to prevent damage. However, winter watering in combination with targeted mite sprays can reduce mite populations to the point where grass can fully and quickly recover in the spring.

Let Mountain High team up with you, so together we can prevent unsightly and expensive mite damage.

For more useful information, please click here.
---
Get to Know Us!
Kristine Guarnero - Human Resources
Kristine was born and raised in Denver. Kristine has been married for 30+ ye
ars, has 2 beautiful daughters and 4 grandchildren that she loves dearly. Kristine is also an avid reader in her "spare" time.
Kristine has been practicing Human Resources for the last 26 years. She moved to Oklahoma where she held the position of HR Manager for the Tribal Casinos. Kristine relocated back to Denver where we were lucky enough to have her join our team. Welcome Kristine!
November 2015
MHT ~ SEASONAL TOPICS
from Craig Little


Warm
Weather
Trend


We are in the midst of a warm weather trend. September 2015 was the warmest September in Colorado recorded history, and not far behind was October 2015 which was the 2nd warmest October. It is important to maintain ample soil moisture during the winter in order to preserve healthy root tissue. Make sure you are prepared to water your trees this winter.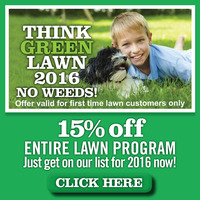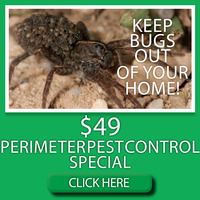 A Proud Sponsor of the
2016 Notable Trees
of Colorado Calendar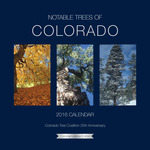 Some of our recent reviews:
Rosemary in Golden ~ Always careful to get the job done right. Thanks!

Theda in Englewood ~ Mike sprayed our yard and was extremely pleasant and professional. Great job!

Jenna in Centennial ~ I loved that your technician did research to help my lawn do better and look better.

Betty in Denver ~ Workmanship, professional, prompt, and I would highly recommend to friends and family.

Elizabeth in Denver ~ quality of product, Thank you!

George in Broomfield ~ 15 year repeat customer with Mountain High Tree, they have been there winter, spring, summer and fall.

Leslie in Littleton ~ Love your work, reliable and knew what they were doing.

Patty in Arvada ~ Travis came to the door, introduced himself and let me walk him around my small back yard to point out some things. Even though I'm a repeat customer. Every step of the process was very smoth and professional.

Holly in Lakewood ~ Respect for my yard, very clean after the trees were trimmed. Fair, professional and responsive to the customer's needs.

Judy in Lakewood ~ Every contact I have had with your staff has been pleasant. They are very helpful and I highly recommend your company.

Gene in Denver ~ Some delay in follow up emails/calls, but an overall great job.

Gertrude in Lakewood ~ My family has used your company for over 40 years! Very satisfied.

Terra in Golden ~ The crew were really nice to my grandkids!

Charlotte in Denver ~ Pleasant folks, they do excellent work.

Judy in Lakewood ~ Every contact I have had with your staff has been pleasant, they are very helpful, highly recommend.
As summer wanes, cooler temperatures along with shorter days and less water, cause the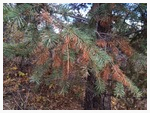 chlorophyll in leaves to begin to break down. This allows the remaining pigments to be revealed: carotenoids produce the yellow colors, and anthocyanins are responsible for red colors. In Colorado, fall leaf color typically lasts from September into November. As conditions become drier, colorful leaves fade to brown and soon fall. Surprisingly to many of us, this same annual phenomenon occurs in Pines, Spruce and Fir. They are naturally shedding their older needles. Pines do this more regularly creating a tufted look. Spruce and Fir retain their needles longer creating a fuller, greener form. The time of year, color and suddenness are all indications that this is a normal event. Often with drought or another stress, trees will shed more creating a thinner canopy. Each year and each tree is different. The end of the season and the coming of winter is welcome. We can slow our pace a bit, reflect and plan for the future. It is also a great time to prune your trees. Insects and disease are dormant, and we can see the form and structure of a tree. Our team is made up of year-round arborists.

In this season we are thankful for trees and all our wonderful loyal customers.
We are offering a 10% winter pruning and removal discount in the Colorado Springs area;
if you would like an estimate,
please call our Colorado Springs Office at 719-444-8800.